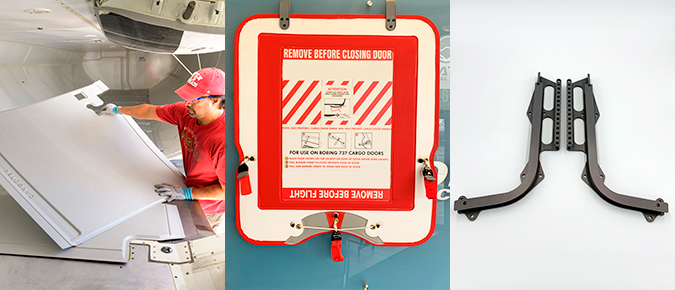 Featuring CargoTek® Cargo Bay Protection Solutions, Cargo Door Armor, and PMA Portfolio
Everett, Washington (October 15, 2021) ― Aviation Technical Services (ATS) today shared its plans for MRO Europe 2021 which opens October 20th in Amsterdam and invites all attendees to stop by booth 5098. ATS, an award-winning provider of airframe MRO and component support services, has been expanding its Engineering Solutions and Ranger Asset Management offerings; both a primary target of its show activity this year. All product displays are being shown by ATS for the first time in Europe.
On Display:
CargoTek Cargo Bay Protection Solutions protect OEM cargo bay floors and sidewalls leading to the elimination of cargo related AOG and Minimum Equipment List (MEL) events. CargoTek products are in service today on Boeing 737 MAX as well as Airbus A320 aircraft. Impact resistant CargoTek panels have been integrated into an interactive arcade game where attendees can experience first-hand the durability of the product.
Cargo Door Armor is an affordable solution for Boeing 737 Next Generation and MAX Series operators looking to protect their cargo doors from damage incurred while loading and unloading luggage and cargo from the aircraft. ATS will be showcasing an upgraded version of this product, highlighting design advancements which make it even more popular with ramp teams.
The ATS PMA Portfolio is an alternative for airlines looking for relief from high cost, long lead time, and high failure parts. ATS PMA parts are engineered through collaboration with a 45-year airline partner and utilize data from airframe maintenance and component repair workscopes. Sample parts highlighting various design, material, and machining techniques are available in the booth.
"In addition to providing MRO services, ATS also offers maintenance prevention strategies to airlines and OEMs," stated Ben Tschirhart, VP of Engineering Solutions. "Our work starts with listening to our customers and assessing needs together. It's how our FAA approved PMA Portfolio grew from three parts in 2015 to 162 unique ATS part numbers covering 185 OEM part numbers today."
About ATS:
For more than 50 years, ATS has been providing industry-leading, comprehensive MRO and support services for aircraft and OEMs. It is focused on making the MRO process better through reducing span times, increasing mechanic efficiency, improving airline operational performance, and lowering overall costs through maintenance prevention strategies. It partners with Aerospace Machining and Assembly, Inc. (AMAI) for intellectual property and tooling requirements associated with CargoTek products as well as with Cargo Door Armor LLC.
ATS offerings include:
Airframe Services: Heavy maintenance and modification
Component Repair: Providing repair services and rotable exchange options for accessories, composites, electrical and fuel components, flight control surfaces, hydraulics, pneumatics and structures
Engineering Solutions: PMA parts, STC offerings, as well as design and repair engineering
Ranger Asset Management: Component part sales/USM, consignment, and inventory distribution services available for virtually every commercial airframe and engine platform. Also includes asset acquisition and teardown activities
For more information, please visit: ATSmro.com, follow @atsmrotech on Twitter, and join ATS on Facebook and LinkedIn.
Contact:
ATS
Sherry Cole Bergstrom
Director of Marketing, PR and Communications
Sherry.Bergstrom@ATSmro.com