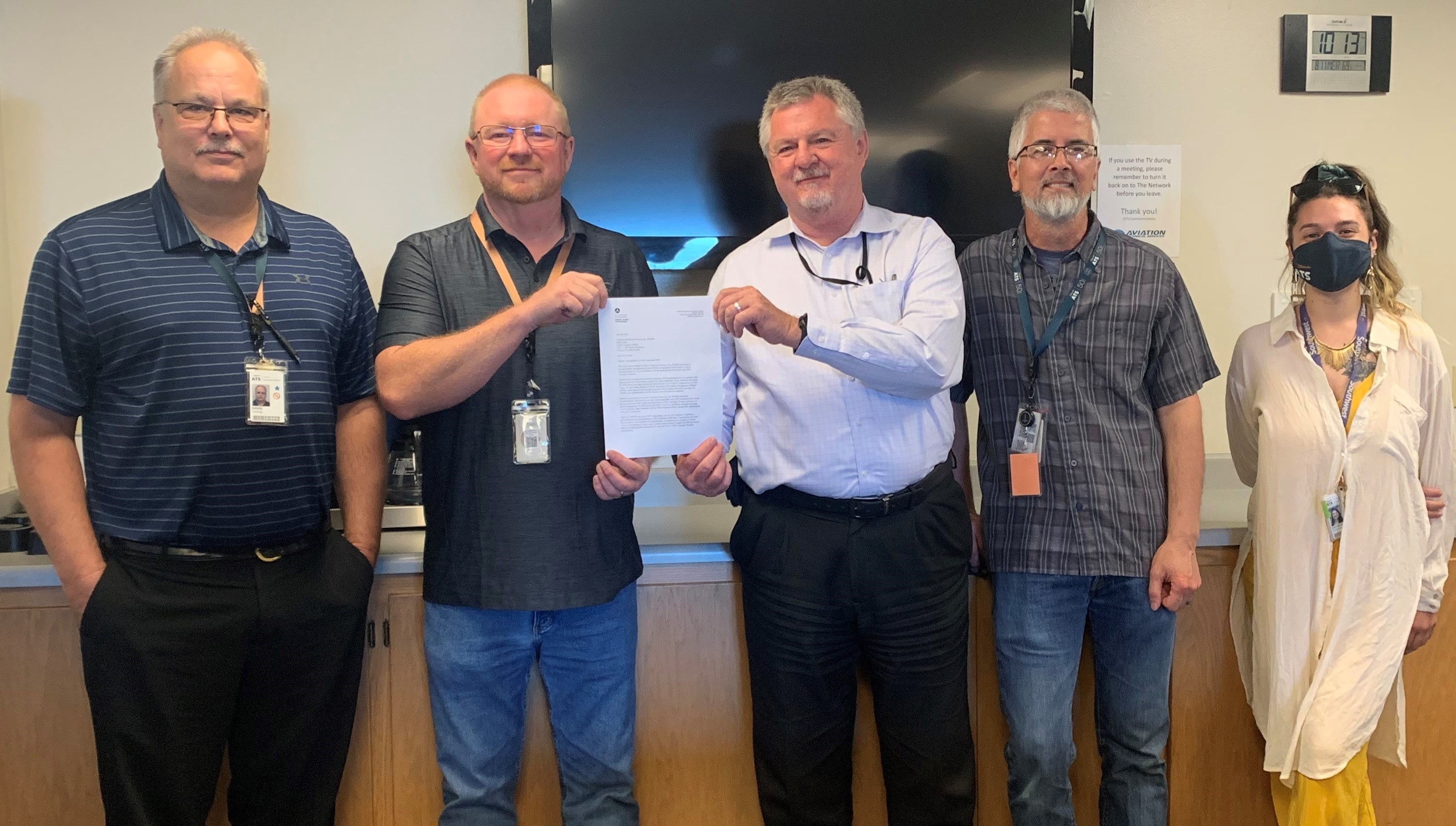 Pictured left to right: David Keimig, Jeff Cornell, Roger Nicely, Nick Heminger, Michelle DeMatteo
Everett, Washington (August 17, 2021) ― Aviation Technical Services (ATS) today announced its Safety Management System (SMS) now has state recognition and meets International Civil Aviation Organization (ICAO) requirements as specified by the FAA SMS Program Office and Certificate Management Team.
To achieve this award, ATS implemented its SMS using FAA stated standards based upon framework specified by the ICAO Safety Management Manual (SMM), Document 9859. To maintain its current SMS 'Active Conformance' status, ATS continues to follow SMS processes developed to meet the FAA's SMS Voluntary Program requirements.
"While participation towards receipt of this designation is currently voluntary for repair stations, ATS's commitment to aviation safety is part of our daily culture," said Paul Dolan, ATS CEO. "We look forward to other industry MROs joining us as SMS honorees, as we work together under the direction of the FAA to proactively talk openly about safety-related topics."
FAA personnel from the Seattle Flight Standards District Office personally delivered written notification of this achievement at ATS's hangar location in Everett, WA. "Based on our review of ATS's planning, documentation, and activities, the FAA has determined that the ATS SMS implementation meets the expectations of the Flight Standards Service SMS Voluntary Program guidance for acknowledgement of a fully functional SMS," stated Roger Nicely, FAA Office Manager – Seattle Flight Standards District Office.
Currently, the FAA's acceptance of the ATS SMS extends to the Everett, WA airframe and component MRO facilities. Plans are underway to also gain FAA acceptance for airframe operations in Kansas City, MO and Moses Lake, WA, as well as component operations in Fort Worth, TX.
About ATS:
For more than 50 years, ATS has been providing industry-leading, comprehensive MRO and support services for aircraft and OEMs. It is focused on making the MRO process better through reducing span times, increasing mechanic efficiency, improving airline operational performance, and lowering overall costs through maintenance prevention strategies.
ATS offerings include:
Airframe Services: Heavy maintenance and modification
Component Repair: Providing repair services and rotable exchange options for accessories, composites, electrical and fuel components, flight control surfaces, hydraulics, pneumatics and structures
Engineering Solutions: PMA parts, STC offerings, as well as design and repair engineering
Ranger Asset Management: Component part sales/USM, consignment, and inventory distribution services available for virtually every commercial airframe and engine platform. Also includes asset acquisition and teardown activities
For more information, please visit: atsmro.com, follow @atsmrotech on Twitter, and join ATS on Facebook and LinkedIn.
Contact:
Sherry Cole Bergstrom
ATS Director of Marketing & PR
+1 425 423 3037
sherry.bergstrom@atsmro.com