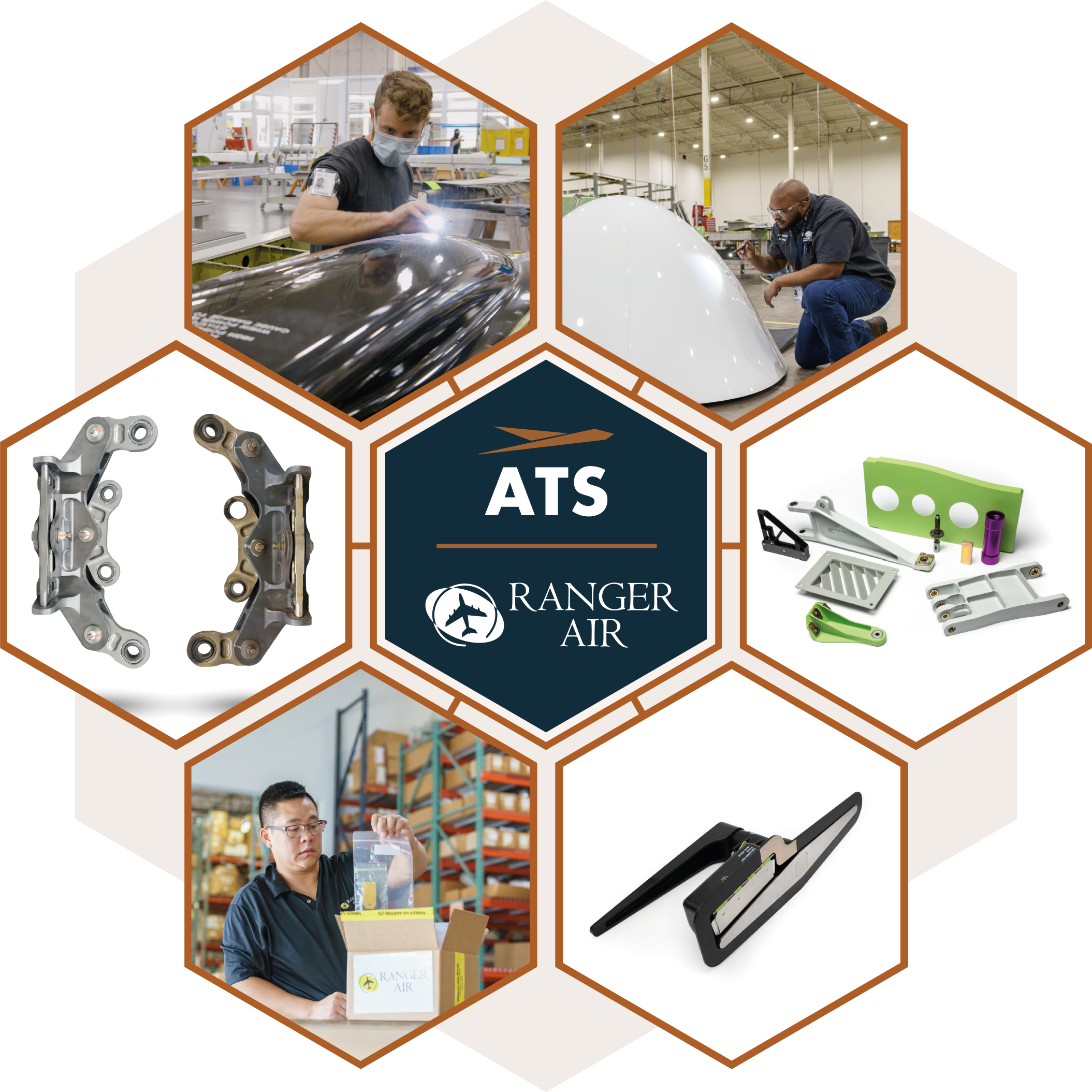 Event News Blog – Everett, Washington (February 28, 2023) – Aviation Technical Services (ATS), an award-winning provider of airframe MRO and component support services, is pleased to be exhibiting at MRO Middle East in Dubai on March 1-2 alongside its Ranger Air business. Show attendees are encouraged to stop by Booth #217 where Michael Fleck, Sherry Bergstrom, Gethyn Oxenham, and Charlotte Marchant will welcome them and share ways ATS can help provide solutions.
WHAT'S FEATURED AT ATS & RANGER BOOTH #217
ATS Components DFW highlights the 2022 consolidation of its American Cooler Service (ACS), Aviation Industry Repair (AIR), and Texas Pneumatic Systems (TPS) subsidiary businesses at its existing 138,000 sq. ft. location in Fort Worth, TX. It provides repair services and rotable exchange options for a variety of aircraft components and features machining, autoclave, clean room, and heat treat capabilities.
Comprehensive component repair services and/or rotable exchange options include accessories, composites, electrical and fuel components, engine mounts, flight control surfaces, hydraulics, pneumatics, and structures for various commercial and regional aircraft. In addition to its DFW International Airport (Fort Worth, TX) location, similar services are also available near SeaTac (Seattle, WA) International Airport.
ATS sets itself apart by partnering with airlines and OEMs, bringing to market customized repair solutions. Boeing 787 operators are encouraged to drop-in and learn more about its Cabin Air Inlet capabilities.
___________
Airlines looking for relief from high cost, long lead time, and high failure parts are encouraged to visit the Parts Manufacturer Approval (PMA) Showcase. ATS's FAA-approved PMA parts are engineered through collaboration with a 45-year airline partnership and are selected for development based on ATS's extensive knowledge of what drives significant cost and lead times in airframe maintenance and component repair. Sample parts include flight deck seat tracks, floor panel block assembly (Lav B), gimbal, hydraulic fuse housing, retainer assemblies, and a wiggle plate assembly.
___________
Representatives are also available to discuss ATS's Supplemental Type Certificate (STC) programs. Program highlights include:
EverLatch™ Cargo Door Latch
The EverLatch™ Cargo Door Latch by ATS is a cost-effective solution to a long-standing cargo door latch problem where operators experience fuselage skin and cargo door housing damage from sheared off nylon bumpers. The EverLatch is easy to install and is currently in service with airlines operating Boeing 737NGs.
Crew Rest Module
The Crew Rest Module by ATS has been designed with pilot input to ensure required amenities and safety provisions. It has proven reliability through in-service use since 2017 with a Boeing 767 freight operator.
CargoTek® Cargo Bay Protection Solutions
Come toss a few hoops at our arcade basketball game and learn how our CargoTek Solutions protect OEM cargo bay floors and sidewalls leading to the elimination of cargo related AOG and Minimum Equipment List (MEL) events. Impact resistant CargoTek products are in service today on Airbus A320 aircraft.
 ___________
ATS's Ranger Air team is also on-site in Dubai discussing its USM and component part sales, consignment, and inventory distribution services available for virtually every commercial airframe and engine platform. Its warehouse is headquartered near DFW International Airport in Texas, bringing convenient 24/7 service for AOG requirements.
More About ATS:
For more than 50 years, ATS has been providing industry-leading, comprehensive MRO and support services for aircraft and OEMs. It is focused on making the MRO process better through reducing span times, increasing mechanic efficiency, improving airline operational performance, and lowering overall costs through maintenance prevention strategies. Its business units include Airframe Services, Component Repair, Engineering Solutions and Ranger Asset Management. For more information, please visit: ATSmro.com, follow @atsmrotech on Twitter, join ATS on Facebook and LinkedIn, and watch us on YouTube.
Contact: Sherry Cole Bergstrom l Director of Marketing, PR and Communications l sherry.bergstrom@ATSmro.com