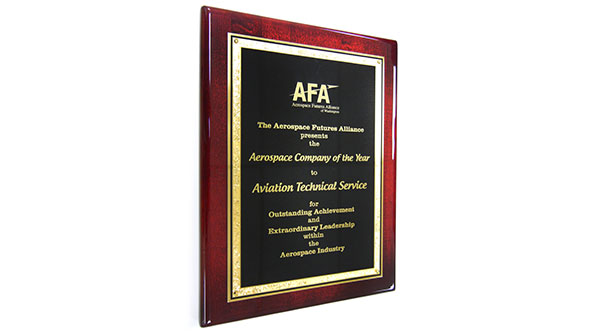 Everett, WA (October 2, 2013) ― Aviation Technical Services (ATS) was honored as Aerospace Company of the Year at the 8th Annual Governor's Aerospace Summit in Everett, Washington, for "outstanding achievement and extraordinary leadership within the Aerospace Industry."
ATS President and CEO Matt Yerbic shared, "It's great to be recognized among our peers within our state's aerospace community. We are proud to support technical jobs within Washington and drive the growth of aerospace in this state and beyond."
"ATS has really become a partner in not only providing top-notch service to national and regional air carriers but also by developing talented aerospace professionals," said AFA Executive Director Linda Lanham.
About Aviation Technical Services
Since opening in 1970, ATS has been providing maintenance, repair and overhaul (MRO) services for commercial and military transport jet aircraft. The largest and most tenured provider of maintenance, repair and overhaul (MRO) services on the U.S. West Coast, ATS is owned and operated in the state of Washington. From a base of operations in Everett and Moses Lake, FAA Class IV Airframe and Class 1, 2 and 3 accessory ratings enable ATS to perform MRO services for virtually any transport aircraft in the world. Today, ATS is home to more than 1,000 employees who work together to support a global customer base across five major business platforms: Airframe Services; Components Services; Engineering/ Manufacturing Support; Aircraft on Ground (AOG) Services; Boeing Business Jet (BBJ) Completions/ Maintenance Support. For more information, visit atsmro.com.
About Aerospace Futures Alliance (AFA)       
Founded in 2006, the AFA brings together state aerospace companies of all sizes to support aerospace in Washington and foster better connections throughout the industry. For more information, visit afa-wa.com.