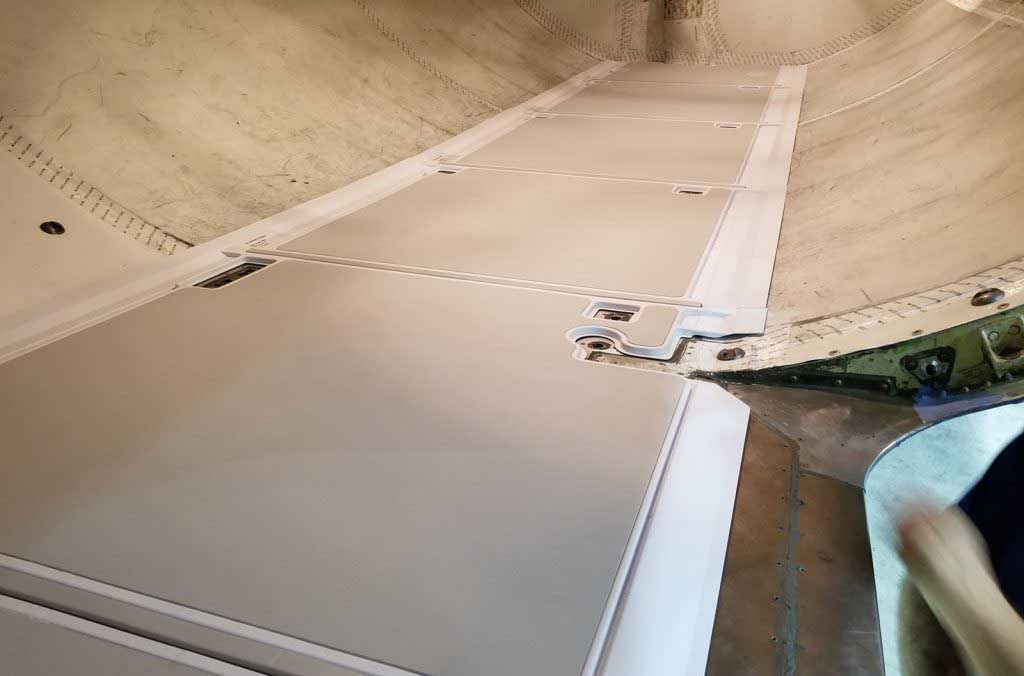 Cargo Pit Liner panels are custom tooled to protect the cargo bay floor and accommodate all fasteners and openings. (PRNewsfoto/Aviation Technical Services)
EVERETT, Wash., April  9, 2018 /PRNewswire/ — Aviation Technical Services (ATS) today announced that it has partnered with Bill Boyer of Aerospace Machining and Assembly Inc. (AMAI) to develop, market and distribute their suite of cargo bay protection solutions including the Cargo Pit Liner, Side Wall Protectors, and Anchor Guards. This suite of easy to install products offers airlines a solution that dramatically reduces damage to their aircraft cargo bays. Cargo bay damage and related issues are fast becoming a leading cause of aircraft gate delays in addition to being a significant recurring maintenance expense.
"ATS is proud to offer these new products to our airline customers because these simple yet effective solutions work together to significantly reduce or eliminate some of the most common cargo bay damage, yielding drastically improved reliability for commercial carriers while simultaneously reducing costs," said ATS CEO Matt Yerbic.
The new products offer numerous advantages for narrow-body aircraft operators. The Cargo Pit Liner and Side Wall Protector are customized airplane cargo hold panels that protect the pit floor and lower side area from damage including dents and scratches as well as keep damaging fluids from entering the cargo pit sub-structure. They can be quickly
replaced or removed for easy access to the sub-floor. The Anchor Guards protect the tie-down anchors from damage from moving bags and cargo. They attach quickly and save on repair costs and delays from inoperative cargo nets.
"AMAI is excited to partner with ATS, a local MRO based in the Seattle area with customers across the globe, for the development and distribution of these and more products that help solve critical challenges for airlines," said Bill Boyer, founder of AMAI.
ATS will offer the entire suite of AMAI's airplane cargo hold protection solutions effective immediately.
About Aviation Technical Services
Aviation Technical Services (ATS) provides a broad and growing portfolio of technical services in MRO (maintenance, repair and overhaul), Engineering, Component Repair and Parts Development world-wide. ATS supports both narrow body and wide body aircraft operators in the commercial and military aviation markets. Since its founding in 1970, ATS has received numerous industry awards for its support of turn-key fleet transition and integration, aircraft modifications, aircraft heavy maintenance, design services and component repair of accessories, structures, complex composites, hydraulics and electrical components. ATS is headquartered in Everett, Washington. For more information, visit atsmro.com.