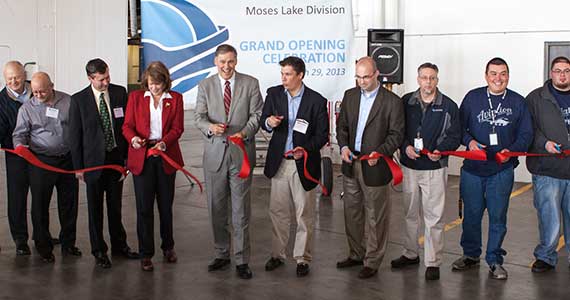 Everett, WA (April 5, 2013) ― On Friday, March 29, 2013, WA Governor Jay Inslee, State Representatives Judy Warnick (13th District, Moses Lake), Matt Manweller (13th District, Ellensburg), and Jeff Morris (40th District), Grant County International Airport Executive Director Patrick Jones and other community leaders gathered at the new Moses Lake Division of Aviation Technical Services (ATS) to celebrate its expansion to Moses Lake and over 50 new aerospace jobs in Washington state. With its two separate hangar facilities in Everett and one in Moses Lake, ATS is now the largest MRO on the U.S. West Coast and one of the largest suppliers of MRO services in North America.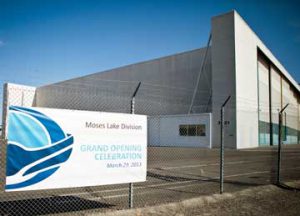 Governor Inslee pledged support of aerospace companies like ATS and discussed funding for the STEM (Science Technology Engineering and Math) Program and others to train future workers in the aviation sector. "The best planes and the best aerospace workers come from right here in Washington," said Gov. Inslee. "We'll make sure it stays that way by investing in the education of our aerospace workers and making sure our kids are trained in the STEM fields that companies like ATS need," he stated.
"It's very exciting to see the Port, the community of Moses Lake, the county and the state come together and provide these good, family wage jobs here in Grant County," said Rep. Warnick to a crowd of about 100 ATS workers, dignitaries, customers, and invited guests.
"ATS has worked in close partnership with Big Bend Community College and their AMT Program to develop the next generation of aviation workers for Washington state companies like ours," added Matt Yerbic, ATS President and CEO. The company anticipates adding another 100 over the next two years, depending on customer projects.
These skilled labor jobs are in addition to the 1,000 ATS provides in the Everett community. The ribbon‐cutting event provided customers and guests the opportunity to view the newly‐renovated, 102,000 square foot facility at the south end of Grant County International Airport. The hangar, currently being refurbished thanks to grants from the Department of Commerce's Community Economic Revitalization Board (CERB) and Grant County, fits up to eight narrow‐body aircraft or a combination of up to three wide‐bodies.
About Aviation Technical Services
Since opening in 1970, ATS has been providing maintenance, repair and overhaul (MRO) services for commercial and military transport jet aircraft. From a base of operations in Washington State (Everett and Moses Lake), FAA Class IV and EASA 145 certifications enable ATS to perform MRO services on virtually any aircraft in the world. Today, ATS is home to more than 1,000 employees who work together to support a global customer base across five major business platforms: Airframe Services; Components Services; Engineering/ Manufacturing Support; Aircraft on Ground (AOG) Services; Boeing Business Jet (BBJ) Completions/ Maintenance Support.
For more information, visit www.atsmro.com.