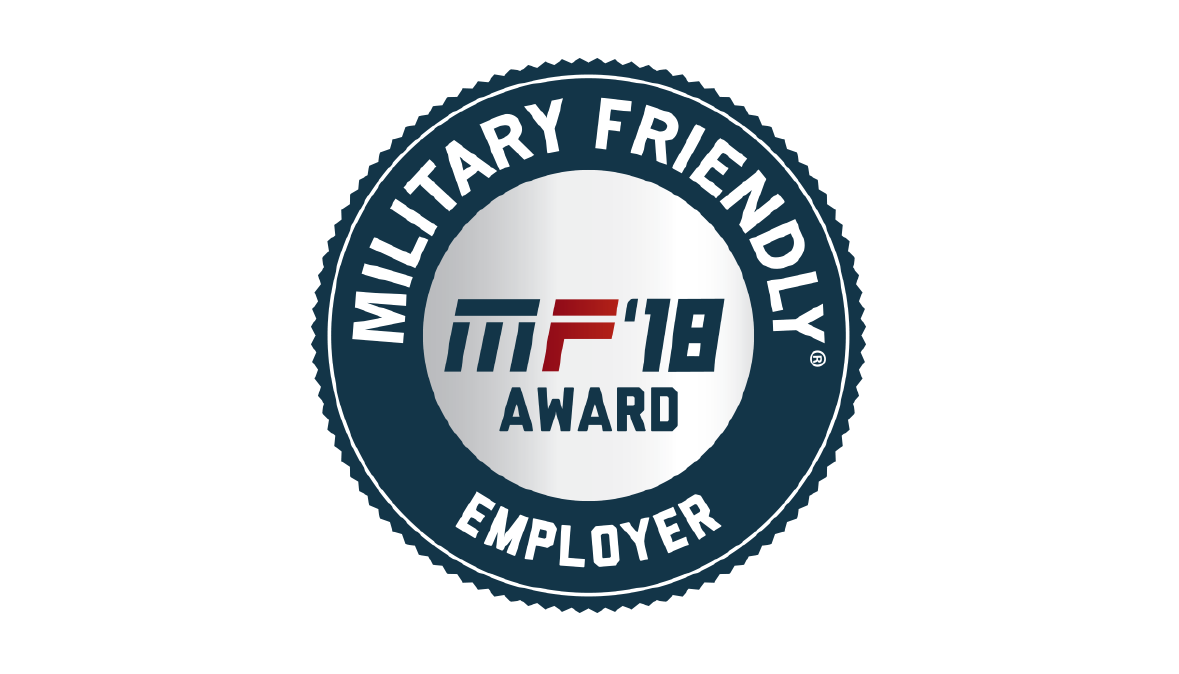 Aviation Technical Services (ATS) today announced that it has earned the 2018 Military Friendly®​ Employer designation by Victory Media. First published in 2003, Military Friendly® Employers is the most comprehensive resource for veterans today. Each year, the list of Military Friendly®​ Employers is provided to service members and their families, helping them discover the best post-military career opportunities available.
"ATS is proud to be named a Military Friendly® Employer," said Adrian Osborn, ATS General Manager of Airframe and Engineering Services. "ATS actively recruits military veterans because we value what they bring to our company – valuable technical experience, education, leadership skills and a strong work ethic. Currently ATS employs over 250 veterans who have found great success with their post-military careers, and we would like to hire many more."
Companies and organizations earning the Military Friendly®​ Employer in 2018 were evaluated using three data sources in the scoring methodology: publicly available data from federal agencies; personal opinion data from veteran employees; and proprietary Military Friendly®​ survey data from more than 200 participating organizations.
Ratings methodology, criteria, and weightings were determined by Victory Media with input from the Military Friendly®​ ​Advisory Council of independent leaders in the higher education and military recruitment community. Final ratings were determined by combining an organization's survey score with an assessment of the organization's ability to meet thresholds for Applicant, New Hire Retention, Employee Turnover, and Promotion & Advancement of veterans and military employees. ATS will be showcased along with other 2018 Military Friendly® ​Employers in the December issue of G.I. Jobs®​ magazine, the January 2018 issue of Military Spouse Magazine, and on MilitaryFriendly.com.
About​ ​Military​ ​Friendly​®​ ​ ​Employers
The Military Friendly® Employers list is created each year based on extensive research using public data sources for thousands of federal contractors nationwide, input of military employees, and responses to the proprietary, data-driven Military Friendly®​ Employers survey from participating companies. The survey questions, methodology, criteria and weightings were developed with the assistance of an independent research firm and an advisory council of educators and employers. Data calculations and tabulations were independently evaluated for completeness and accuracy by EY. The survey is administered for free and is open to companies that have hired veterans in the past 12 months. Criteria for consideration can be found at: https://militaryfriendly.com.
About​ ​Victory​ ​Media
Founded in 2001, Victory Media is a service-disabled, veteran-owned small business (SDVOSB) that connects the military community to civilian employment, educational and entrepreneurial opportunities through its G.I. Jobs®, Military Spouse, Vetrepreneur®, STEM JobsSM and Military Friendly® brands. Learn more about Victory Media at www.victorymedia.com