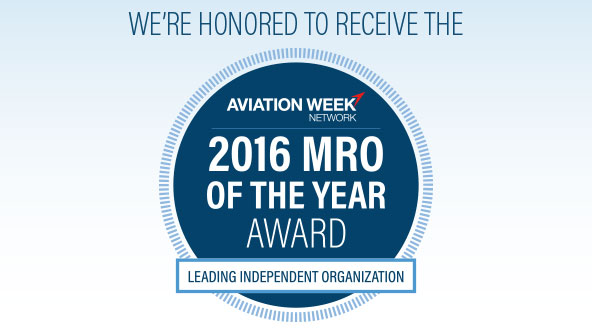 Aviation Technical Services (ATS) has been named "Leading Independent MRO Organization" at the 2016 Aviation Week MRO of the Year Awards, part of the MRO Americas conference being held in Dallas this week. Each year, Aviation Week editors select the best MRO and aviation aftermarket entities around the world for value-adding achievements and innovations. ATS earned the 2016 aviation industry award for its technical fleet integration service, dubbed Skyline.
"ATS is honored to receive Aviation Week's 2016 MRO of the Year Award. This award is a testament to our employees' efforts in working seamlessly with customers to act as an extension of their team," said ATS CEO Matt Yerbic. "Together with our customer, we developed a creative and innovative solution through Skyline that has translated into increased efficiencies, reduced costs, and incremental revenue service."
Skyline enables ATS's airline customers to integrate pre-owned, mid-life aircraft to existing fleets. The program alleviates resource-intensive technical activities, delivering flying capacity to an airline faster than adding new aircraft. This allows carriers flexibility to grow and deploy their fleets.
"ATS has been a committed and reliable partner in Southwest's fleet modernization efforts," said Landon Nitschke, Southwest Airlines' Vice President of Maintenance Operations. "By working with ATS to centralize technical elements of Southwest's pre-owned aircraft integration program, we have introduced dozens of aircraft into revenue service."
Southwest and ATS have collaborated since 2014 to produce the Skyline program. ATS provides the technical capability that preserves full regulatory compliance and technical uniformity – encompassing elements of records management, engineering, technical procurement, transition check planning and direct labor.