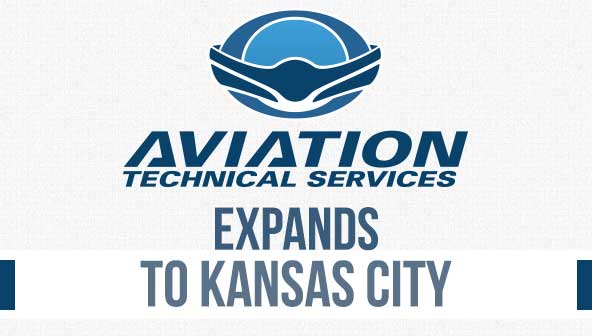 Everett, WA (December 20, 2013) ― Aviation Technical Services (ATS) announced today that it has reached an agreement with the City of Kansas City and the Kansas City, Missouri, Aviation Department to lease a portion of the KCI Maintenance, Repair and Overhaul Base at Kansas City International Airport. The operation, which at full capacity will provide ATS with 607,000 square feet of operating space, will create more than 500 new jobs over the next three to five years with potential for 1,000 employees over time. Expanding to Kansas City provides ATS with a convenient location to serve its customer base.
ATS plans to invest upwards of $7 million in tooling and equipment to bring the new facility online. With space to house up to 11 narrow-body aircraft or several wide-body and narrow-body aircraft at the same time, ATS intends to offer all major maintenance, repair, and overhaul (MRO) services at its Kansas City facility. Over the next three years, ATS expects to invest additional capital as the operation ramps up.
"This is yet another step to secure ATS' future and ensures long-term stability for our customers, employees and company. Expanding to Kansas City in the KCI Overhaul Base allows us to meet existing customer requirements and adds to our platform from which to grow and diversify our service offerings over time.  We plan to continue to grow in new locations that support this model," said President and CEO, Matt Yerbic.
"Once again, Missouri continues to be a global leader in the aerospace and aviation industry," Gov. Jay Nixon said. "Following Boeing's decision to bring up to 800 research and IT jobs to the Show-Me State, Aviation Technical Services' announcement today is further evidence that Missouri's highly-skilled workforce and pro-business climate make it an outstanding place for companies large and small to prosper. This significant job-creating investment makes it easy to see why Missouri's unemployment rate has been below the national average for 51 straight months."
"The decision by ATS is one of several commitments made this year to create new manufacturing jobs in our KC region. When new manufacturers serving the auto and aviation industry are added to the growing number of  information technology, logistics and biotech jobs being created by our local companies as well as new, entrepreneurial ventures we have a balanced economy with an upward trajectory," said Bob Marcusse, President and CEO, Kansas City Area Development Council.
Metropolitan Community College has worked to support ATS from the beginning of their site selection, helping them understand the education, training and consulting services the college is able to provide. For applicants interested in job opportunities with ATS, please visit aviationtech.mcckc.edu.
About Aviation Technical Services
Since opening in 1970, ATS has been providing maintenance, repair and overhaul (MRO) services for commercial and military transport jet aircraft. The largest and most tenured provider of maintenance, repair and overhaul (MRO) services on the U.S. West Coast, ATS is owned and operated in the state of Washington. From a base of operations in Everett and Moses Lake, FAA Class IV Airframe and Class 1, 2 and 3 accessory ratings enable ATS to perform MRO services for virtually any transport aircraft in the world. Today, ATS is home to more than 1,000 employees who work together to support a global customer base across five major business platforms: Airframe Services; Components Services; Engineering/ Manufacturing Support; Aircraft on Ground (AOG) Services; Boeing Business Jet (BBJ) Completions/ Maintenance Support. For more information, visit atsmro.com.
About Kansas City
Home to 2.5 million people, the Kansas City region offers the benefits of more than 50 unique communities and 18 counties in Kansas and Missouri. As "America's Creative Crossroads," the region's distinctive qualities come from a confluence of artistry and technology innovation.  Google selected the Kansas City metro for the roll-out of its Google Fiber service, which provides internet speeds at up to one gigabit per second. Kansas City and its corporations, universities and lifestyle assets are nationally ranked among the best places to work, innovate and explore. www.thinkKC.com