The combined strengths of AJW Aviation, AJW Technique and ATS to offer a powerful integrated solution for global customer base.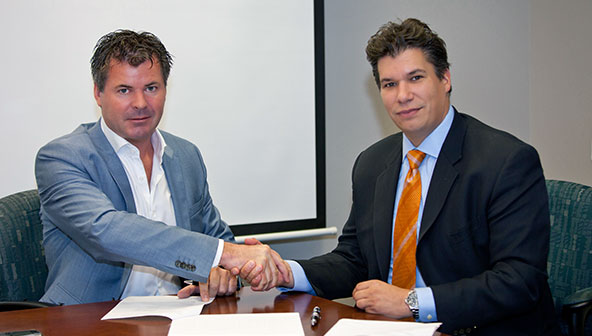 Everett, WA (August 16, 2013) ― Aviation Technical Services (ATS) and AJW Group have signed a Memorandum of Understanding (MOU) to create a range of flexible integrated solutions for the aviation market worldwide.
Together, ATS and AJW will provide operators with a much broader scope of capabilities through their combined strengths that address an increasing demand for comprehensive services and supply chain value propositions. Airlines looking to streamline costs in maintenance infrastructure and avoid investments in inventory will benefit from this alliance.
Through the deal, ATS will gain valuable access to AJW's extensive Boeing and Airbus component inventories, as well as an expanded scope of repair capabilities provided by AJW Technique. AJW will offer customers expanded PBH solutions benefiting from the range of services offered by ATS Components.
ATS President and CEO Matt Yerbic says, "This partnership will see two of the largest and most experienced companies in the industry working together to deliver innovative solutions for our joint customers."
"We already serve a global customer base of more than 800 airlines with over 400 aircraft under contract," explains Christopher Whiteside, President, AJW Group. "The close partnership with ATS will help us to reach U.S. airlines with a compelling and fresh approach, thereby furthering our joint ambitions to become the partner of choice for airlines seeking competitive advantage. This perfectly complements what we can offer and ensures that together we can truly drive down direct maintenance costs (DMCs) for operators."
Over the course of the next few weeks, AJW and ATS will define the joint market solutions with a view to launching formally in September at MRO Europe, London: 25-26 September 2013 (Booth 1418)
Aviation Technical Services has been providing maintenance, repair and overhaul (MRO) services for commercial and military transport jet aircraft for over 40 years. The largest and most tenured provider of maintenance, repair and overhaul (MRO) services on the U.S. West Coast, ATS is owned and operated in the state of Washington. From a base of operations Everett and Moses Lake, FAA Class IV Airframe and Class 1, 2 and 3 accessory ratings enable ATS to perform MRO services for virtually any transport aircraft in the world. Today, ATS is home to more than 1,000 employees who work together to support a global customer base across five major business platforms: Airframe Services; Components Services; Engineering/ Manufacturing Support; Aircraft on Ground (AOG) Services; Boeing Business Jet (BBJ) Completions/ Maintenance Support. www.atsmro.com
AJW Aviation is a world leading specialist in the supply, repair and lease of commercial aircraft spare parts, including services in aircraft engines, aircraft inventory management; power-by-the-hour and pooling support; consignment stock; global 24/7 AOG; component maintenance and overhaul; consumable supplies; logistics and freight management.  Headquartered in the UK, AJW offices are based in London, Montreal, Singapore, Dubai and Miami with further inventory hubs across Europe, Asia and North America.  www.ajw-aviation.com
AJW Technique provides a broad range of component repair and overhaul services to an international customer base of more than 800 airlines and operators, underpinned by one of the best industry-specific aviation skill bases in the world – Montreal.AJW Technique is focused on delivering world class reliability, guaranteed availability of components, and first class turn times to deliver improved efficiencies and maximize aircraft availability; All this backed by superior warranties and competitive pricing. www.ajw-technique.com