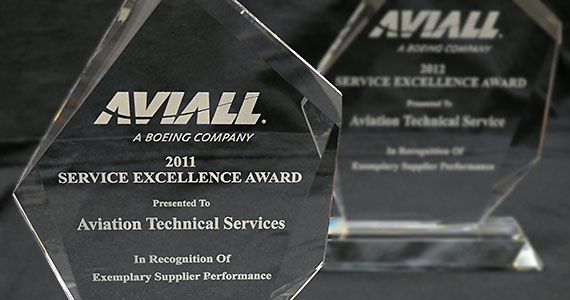 Everett, WA (April 26, 2013) ― Aviation Technical Services (ATS) announced today that it has received a 2012 Service Excellence Award from Aviall (a Boeing company) for work performed during 2012 by the ATS Component Services Division. Aviall, Inc. issues the award annually to recognize suppliers who have achieved exemplary performance. This is the second consecutive year that ATS has received this honor.
This year, Aviall recognized the top six of over 500 suppliers, and ATS Components was one of the select few. "We appreciate this award and we are excited to be able to support Aviall as they continued to expand their business," says Michael Beck, VP/GM ATS Component Services Division. ATS supplies component MRO services, on‐site support and machining services to Boeing for its commercial aircraft fleet (including the B787) and military derivatives. Boeing has been a valued customer for more than 15 years.
About Aviation Technical Services
Since opening in 1970, ATS has been providing maintenance, repair and overhaul (MRO) services for commercial and military transport jet aircraft. From a base of operations in Washington State (Everett and Moses Lake), FAA
Class IV and EASA 145 certifications enable ATS to perform MRO services on virtually any aircraft in the world.
Today, ATS is home to more than 1,000 employees who work together to support a global customer base across five major business platforms: Airframe Services; Components Services; Engineering/ Manufacturing Support;
Aircraft on Ground (AOG) Services; Boeing Business Jet (BBJ) Completions/ Maintenance Support. Visit us at www.atsmro.com and www.atscomponents.com.