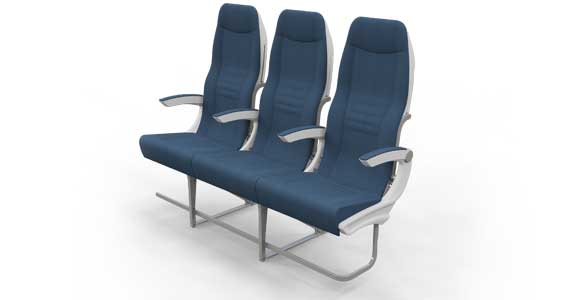 Everett, WA (March 20, 2013) – Aviation Technical Services(ATS) and Aviointeriors have agreed to develop a business relationship in support of seat installation activity of Aviointeriors' seats for airline customers. This agreement marks a first step in building a relationship that will provide airlines with seamless support for seat installation on both newly‐delivered aircraft and in‐services fleets. It combines Aviation Technical Services' extensive experience in aircraft interior installation and modification with Aviointeriors' creative design and manufacturing history.
Aviation Technical Services is an aircraft and component Maintenance, Repair and Overhaul (MRO) services provider headquartered in Everett, Washington. Aviointeriors is an aircraft seat and interiors furniture designer and manufacturer headquartered in Latina, Italy.
"We are very pleased to be working together with ATS. Their expertise and state‐of‐the‐art facilities will provide a great onsite support for Aviointeriors," says Franco Mancassola, Aviointeriors Vice‐Chairman.
Matt Yerbic, President and Chief Executive Officer of Aviation Technical Services, adds, "This represents an exciting opportunity for ATS to work directly with Aviointeriors and their airline customers to ensure support is available for interior installation needs."
About Aviation Technical Services
Since opening in 1970, ATS has been providing maintenance, repair and overhaul (MRO) services for commercial and military transport jet aircraft. From a base of operations in Washington State (Everett and Moses Lake), FAA Class IV and EASA 145 certifications enable ATS to perform MRO services on virtually any aircraft in the world. Today, ATS is home to more than 1,000 employees who work together to support a global customer base across five major business platforms: Airframe Services; Components Services; Engineering/Manufacturing Support; Aircraft on Ground (AOG) Services; Boeing Business Jet (BBJ) Completions/Maintenance Support. www.atsmro.com
ATS contact: Jon Morgan, Director‐Sales and Marketing: (425) 423‐4283  jon.morgan@atsmro.com
About Aviointeriors
Founded in 1971, Aviointeriorsis one of the world's leading aircraft seat manufacturers and counts, amongst its clients, most of the major international airlines. Aviointeriors expertise for the innovativeness of its design and the quality of its many types of aircraft seats in all classes is well known. Recently, in partnership with the prestigious car manufacturer Lamborghini, Aviointeriors has developed a new, light economy seat, the Leonardo, which has already been described by some press in the industry, as the possible seat of the future.
Aviointeriors contact: Franco Mancassola, Aviointeriors Vice‐Chairman: f.mancassola@aviointeriors.it